The annual Injuries and Deaths Associated with Nursery Products Among Children Younger Than Age Five report released today by the U.S. Consumer Product Safety Commission (CPSC) shows that risks associated with nursery products remain high with more than 160 nursery product-related deaths annually. Many deaths occur in unsafe sleep environments. September is Baby Safety Month, and CPSC is sharing this data and safety information because most nursery product-related infant deaths are preventable. 
CPSC urges parents and caregivers to put their babies to sleep only in products that are safe for sleep–such as bassinets, cribs, and play yards. Babies who fall asleep in other locations should be moved to a crib, bassinet or play yard. CPSC also urges caregivers to reduce suffocation hazards such as soft bedding.
Make sure grandparents and extended family members and caregivers get specific directions related to safeguards as they may have been different when they cared for young children.
This includes removing blankets, pillows, and stuffed toys from a baby's sleep space.
CPSC's latest data show that between 2018 and 2020, there was an annual average of:
100 deaths, most of which were associated with the presence of extra bedding, such as pillows, blankets and/or comforters in cribs, playpens/play yards, and bassinets/cradles, infant carriers and inclined infant sleep products; and
15 deaths associated with inclined infant products, not intended for sleep.
The report also found that African American children are disproportionately impacted by nursery-product related deaths. African American children made up 29 percent of all deaths (compared to 16 percent of the population). CPSC remains committed to supporting the most vulnerable populations and working to prevent injuries and deaths.  
Additionally, the report says:
In 2022 alone, an estimated 59,500 children under five years old were treated at emergency departments with injuries associated with nursery products; and
Most nursery-product infant deaths occurred in a cluttered sleep space, when soft bedding was added to the cribs, playpens/play yards or bassinets/cradles.
"It is important for families to remember that the ways many adults sleep are not safe for young children," said CPSC Chair Alex Hoehn-Saric. "CPSC's message on safe sleep is simple: "bare is best" which means a firm, flat surface in a crib, bassinet or play yard, without blankets, pillows, or other items. If your baby falls asleep in an inclined product, move them to their crib, bassinet or play yard."
If you have, care for, or are expecting a baby, keep these dos and don'ts in mind:
Do
Do use products intended for sleep including cribs, bassinets, play yard and bedside sleepers that meet federal requirements
Do remember that Bare is Best—nothing but a fitted sheet in a crib, bassinet or play yard
Do always place baby on their back
Do move your baby to their crib, bassinet or play yard if they fall asleep elsewhere
Do check our website for recalls (https://www.saferproducts.gov/) and sign up to receive recall notifications (gov)
Don't
Don't add pillows or blankets to your baby's sleep space
Don't allow your baby to sleep in an inclined product with an angle greater than 10° such as a rocker, bouncer, swing, or glider
RECALLS: Always check to see if any purchased baby nursery products have been recalled, which includes any secondhand products.  Remember, babies rely on adults to keep them safe. Sign up for recall notifications today at CPSC.gov.
For more tips on baby safety, recalled baby products and to view CPSC's baby safety public service announcement, visit CPSC's Safe Sleep and Crib Safety Education Center here.
Individual Commissioners may have statements related to this topic.  Visit  www.cpsc.gov/commissioners to search for statements related to this or other topics.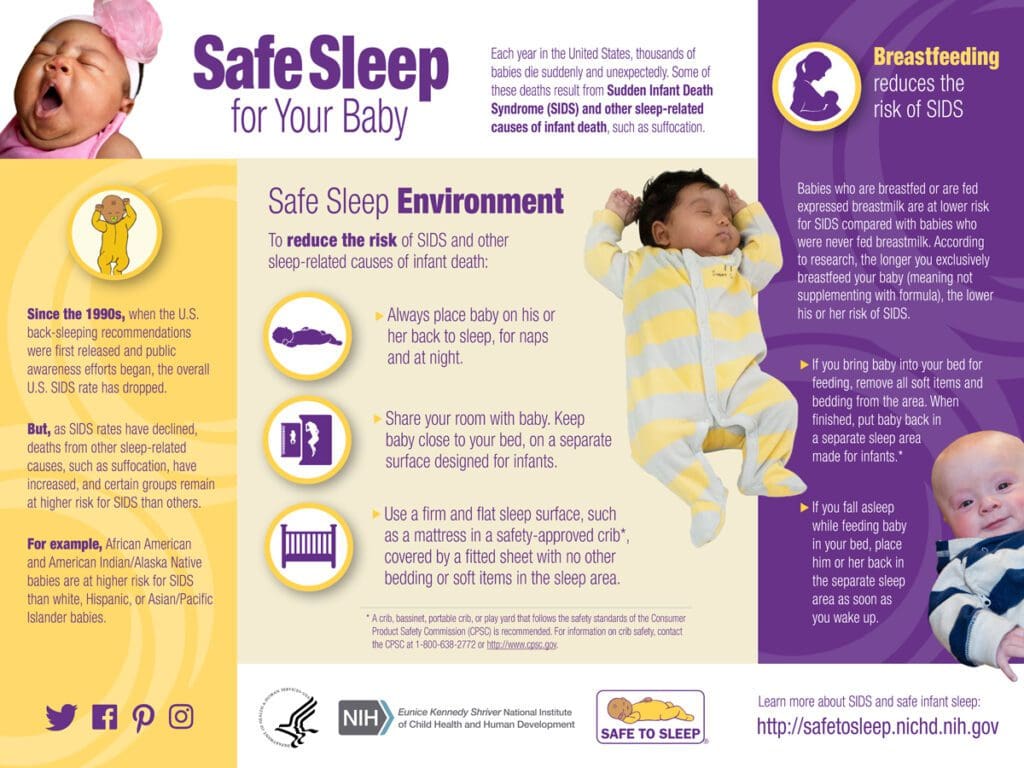 About the U.S. CPSC
The U.S. Consumer Product Safety Commission (CPSC) is charged with protecting the public from unreasonable risk of injury or death associated with the use of thousands of types of consumer products. Deaths, injuries, and property damage from consumer product-related incidents cost the nation more than $1 trillion annually. CPSC's work to ensure the safety of consumer products has contributed to a decline in the rate of injuries associated with consumer products over the past 50 years.
Federal law prohibits any person from selling products subject to a Commission ordered recall or a voluntary recall undertaken in consultation with the CPSC.
The post Baby Safety Month – check baby's sleep space – dos and don'ts from CPSC appeared first on RINewsToday.com.